Exploring the Amalfi Coast. Best Hotels, Shopping, Sights 
The Amalfi Coast in Italy is one of the most spectacular and unique landscapes in Europe.
Dotted with villages such as the beautiful Positano perched on the rocky outcrops.
Come with us as we explore the coast and villages, the Isle of Capri with it's alley ways of shops and spectacular views of the Mediterranean.
Our aim is to pass on to you what we have seen and done to make your task of deciding where to stay and what to do easier, whatever your budget.
Allow us to show you the things to look out for and the traps not to fall into. How to get the most out of your stay on the Amalfi Coast.
On this site you will find photos, hotels, maps, webcams, weather, how to get there and how to get around, tours and everything you need to know to plan your holiday.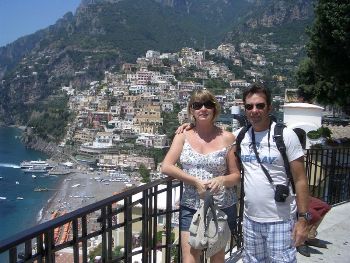 Barb and me above Positano
If we haven't covered it, please let us know so we can add it to our site.