Positano Photos | Map of Positano |
Positano Hotels | Positano Attractions | Praiano
Positano and Praiano
This has to be our favourite part of the Amalfi Coast. Positano clings to the rock face with spectacular views from the dwellings on the cliffs.
Once in the centre of the village you will not be disturbed by vehicle traffic, there is none. It is full of little walking lanes lined with shops, hotels and ristorante. Wind your way down to the beach for a spot of lunch in the shade and while away a couple of hours people watching.
Browse the many ristorante and decide where you might return for dinner in the evening. This place is heaven. A quick swim or hire a couple of sunloungers and catch up on that tan.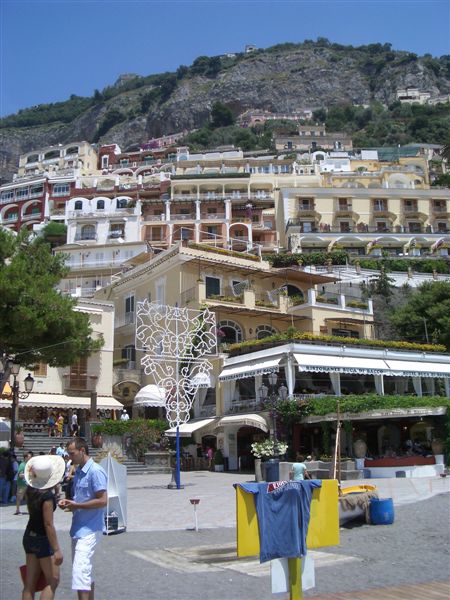 On the beach you can enquire about boat trips to Capri for the following day. If you enjoy swimming off boats as we do, this is so much better than taking the ferry and not much more expensive.


Other pages in this section.
Photos
A selection of our favourite photos from the area.
Map of Positano
See our map of Positano. Marked with handy locations and points of interest.
Positano Hotels
A selection of our best picks for Hotels.
Attractions
Here we cover shopping, entertainment and attractions in the area.
Praiano
Some information on this small village just a few kilometers to the east.