Positano Photos | Map of Positano |
Positano Hotels | Positano Attractions | Praiano
Positano Attractions
Positano attractions are wide and varied.
What I like about Positano is that you can find different things to occupy yourself depending on the weather and how you are feeling.
The weather is usually great so not much to worry about there. Like all of Europe if you want the weather and not the crowds travel in early June.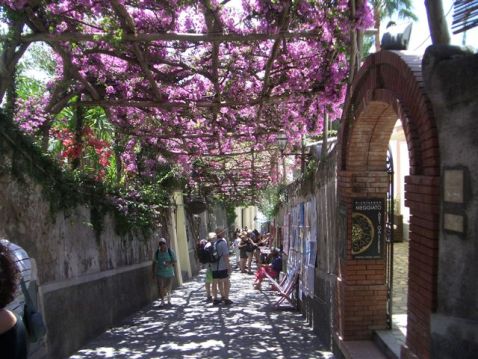 Artists selling their wares in pretty lane
You may feel like having a leisurely start, a bit of breakfast then a stroll into town to look around the many shops in the little lanes of the village.
Need to catch up on some emails? There is a wonderful internet cafe right down on the beach. Very nice surroundings and good quality gear and screens. Turn right as you come down to the beach, it is tucked in the corner. See the indicator on our map of Positano attractions page.
There are lots of choices for dining. If you turn left as you come down to the beach there is a mixture of casual and formal lunch cafe's. All have shade and offer reasonable value. It is most enjoyable to sit and watch the busy little port over an extended lunch.
Perhaps a swim after lunch has settled. You can hire sun loungers and an umbrella. When we were there (mid June) there were plenty available but it can get very busy on weekends in July/August.
Take in some more shopping on your way back to the hotel.
Positano shopping:
Great if you're a female looking for summer bargains. There are the more expensive clothing shops as well but mostly beach clothing. Sandals, jandals, hats and sarongs. Lucky for you girls shopping is one of the main attractions in Positano.
Blokes, you will have to make do with watches and sunglasses. There is a bit of shopping for males but lets face it, retail the world over is aimed at women.
Be content with a bit of a wander, some photography and a refreshing gelato while you wait. And if she still hasn't finished go back down to the beach and get yourself an ice cold Peroni, one of my Positano attractions.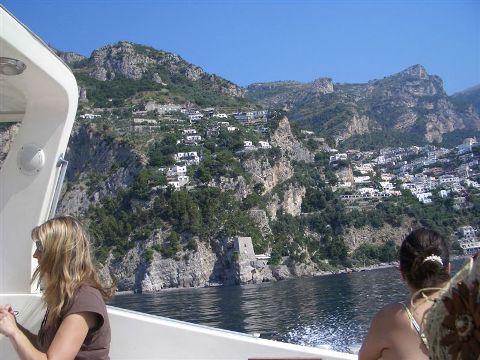 Capri Day Trip:
Need an active day? A day trip to Capri is a good day out. I thoroughly recommend the day trip tours as opposed to taking the ferry to the Island. Shop around to get the best deal that includes the activities you want. We like to swim so opted for one that had the most swimming stops. A day trip is about 50 Euro and the ferry is about 37 Euro so is great value in my books.
A typical tour to the Isle of Capri is depart about 9.00am and head to the island. A bit of a tiki tour around part of the coast and a swimming stop. They will then either drop you at Marina Grande (north) or Marina Piccola (south). See our Isle of Capri section for more detail. You will have about 4 hours on the island which is a bit rushed if you want to see it all but long enough to get a good feel for the place.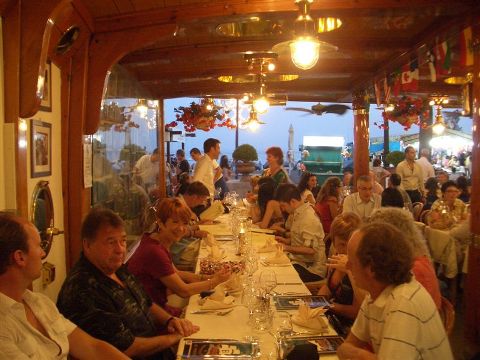 Dining and Nightlife:
There are plenty of options for drinks and dinner. Chez Black is a very popular ristorante on the beach front because of its location. You will need to book if you want to dine here. We found the food good and the price reasonable.
They also run a very impressive night club, Music on the Rocks, right at the opposite end of the beach. The club is built in a grotto on a headland with a restaurant "Le Terrazze" above and is well worth a visit. Can be very crowded on Friday and Saturday nights with large queues. Drinks are a bit pricey.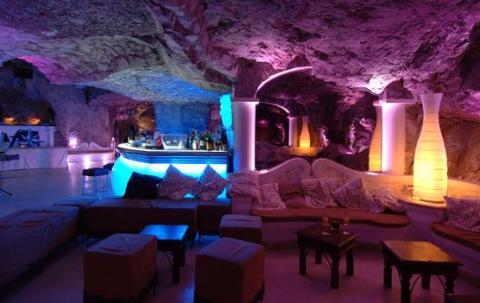 Music on the Rocks! An attraction for miles around.
Overall there are lots of options. We didn't have any bad meals here so it is pretty hard to go wrong. Suss out the ristorante as you wander about during the day and make your booking then. There are lots of ristorante higher up and some of them will shuttle you from town to their ristorante.
Some of the best places are not tourist oriented. If the blackboard outside is only in Italian this can be a clue to simple, delicious Italian cooking at a good price. Be a little adventurous.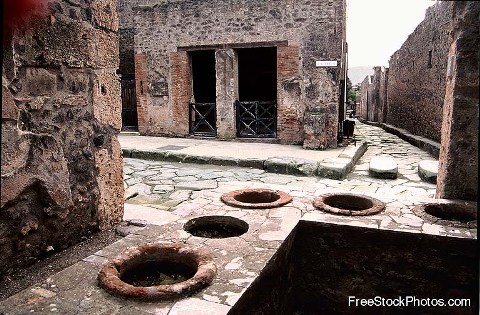 Pompeii Day Trip:
From either Positano or Amalfi you can take a day trip to Pompei, the famous buried village. If you have the time I can thoroughly recommend this trip. Pompei was buried by the Mt Vesuvius eruption in 79 A.D. Thats right 79AD, get your head around that.
Visiting Pompeii is like going back in time, big time. This was a bustling Roman town and was literally frozen in time. The photo above shows the view looking out onto the street from a Roman shop. Probably sold drinks or a form of Gelato from the containers set into the counter.
See casts of people frozen in time as they were trapped in the ash when the village was buried.

Back to top of Positano Attractions.