Amalfi Attractions | Amalfi Accommodation | Amalfi Photos |
Ravello | Ravello Accommodation | Ravello Photos
Amalfi Attractions
To be honest there is not a lot of formal Amalfi sites. The reasons for visiting Amalfi are a lot like the rest of the Amalfi Coast. It is just to be there. A feeling of relaxation that is hard to describe. An atmosphere to be absorbed.
If you are a site junkie then I guess a visit to the paper museum would be on the list. Paper making dates back to the 13th century and this 13th century paper mill is now a museum.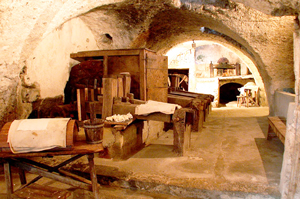 There is also the Arsenale Marinaro which is the old ship yards where they used to make the huge Galleons, powered by sail and 100 or so oars. Dated back to the 11th century only half the building remains, the remainder detroyed by storms in the 14th century.
Check out the Museo Civico a museum that includes the Tabula Amalphitana, the maritime code that Amalfi used to rule the Mediterranean way back when.
Atrani would I guess be considered a site in itself. It is a small coastal town in its own right. A short distance to the east of Amalfi this small picturesque fishing village is where the noble families of Amalfi lived in ancient times. A nice piece of coast to walk on a nice day.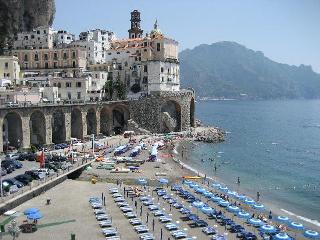 Of course a day trip to Pompeii is a possibility from Amalfi and should be considered for more information see our Positano Attractions page.
Otherwise, stroll the alleyways and shops and ristorante. Have a few swims and soak it up. Have a little RnR, take it easy.... have a bloody holiday and relax.