Amalfi Coast Vacation | Getting There | 
Amalfi Travel - Getting there
Getting to the Amalfi Coast:
Amalfi Travel from Rome:

Usually people coming from Rome go via Naples. Not being a big fan of Naples, namely getting ripped off at every turn and getting hassled. If there is one city that spoils Italy it is Naples. Avoid it if you can.
So I suggest 2 options, both involve the train, one via Naples the other via Salerno.
From Rome to Salerno:
Trains from Rome to Salerno cost 20 to 40 Euro and the journey time is 2 to 3 hours depending on the service you take. From Salerno you can get a ferry to your first port of call as they run to most destinations in the high season.
Salerno is closer than Naples to Amalfi and Positano so a better option anyway if one of these is your first destination.
You want to get a ferry from the Molo Masuccio Salernitano Concordia Dock, (because it's by the Piazza della Concordia) this dock is only 5 minutes on foot from the train station. I mention this because ferries also leave from Molo Manfredi but this is a lot further away from the train station. Molo Masuccio timetables here.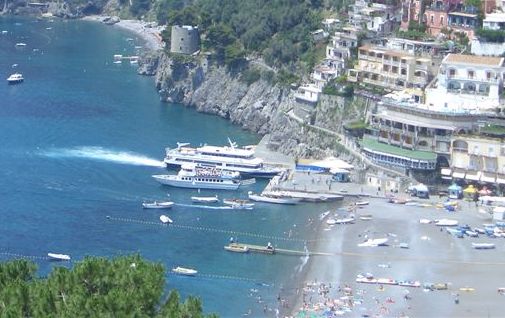 Ferries at Positano. Note that if the weather is dodgy they won't travel to Positano (not very often). 
Ferries make Amalfi Travel easy and picturesque. 
From Rome to Naples - (If you must go to Naples!)
The train from Rome to Naples takes 1:20 or 2:13 depending on the service you take and costs 20 to 40 Euro. Arriving by train you must note that there are three train stations in Naples but the best by far is Napoli Centrale or Piazza Garibaldi because it is the nearest to the harbor and it is where the great majority of long-distance trains arrive.
Be on gaurd at the Naples train station. Accept help from no-one. Even if they say they are officials. They are likely not and will demand money from you after they help you. Don't start your Amalfi travel with a hassle.
I am presuming you won't be staying in Naples but heading straight out. You could get the local metro out to Sorrento, but be warned this is a hot frustrating trip. Some 36 stops in an un-airconditioned train that will likely be packed with pick pockets and standing room only. An experience...yes, enjoyable...no. We had to do this once because it was a public holiday and the boats weren't running.
I suggest a ferry to your first destination from Naples. The best way to reach the harbor from the train station is by taxi. So as to avoid unpleasant surprises make sure you use licensed taxis only. The price of the ride is indicated on the taximeter, which must be used by the driver.
I reccommend you ask for a fixed rate. These rates are available for the journey from the Train Station to the port. Note that the fixed rate is all inclusive so don't get sucked in by additions for luggage etc. Rate should be about 10 Euros and take about 15 minutes.
Car
If you have a car I reccommend you ditch it for the time you are travelling the Amalfi Coast. The roads are narrow and winding and you will not find this a relaxing experience.
If you have come by car to the area, maybe look to leave it in Sorrento, do your Amalfi Coast travel section of the holiday by boat and bus and then pick up another car in Salerno (or return to Sorrento) and continue your tour. There is a good bus service along the Amalfi Coast road and /or do your travelling from town to town by boat.
The Amalfi Coast Road is narrow and winding. Leave the car behind. 
Back to top of Amalfi travel