Italy Overview | Amalfi Coast Map | Amalfi Coast Region | Weather |
Photos of Amalfi | Amalfi Coast Webcams 
Amalfi Coast Region
On this page - The Amalfi Coast region in a bit more detail.
What are the main sights and activities. What to see and do.
The focus of this site is the immediate Amalfi Coast area.
This is the area on the southern side of the Sorrento Peninsula around to Salerno.
The main tourist spots on the coast are Positano (my personal favourite), Amalfi and Ravello, and the Isle of Capri.
Positano - beautifully perched, clinging to the rock faces.
This is my favourite place to stay in the whole of the Amalfi Coast region. Minimal traffic, in fact no traffic in the town centre, tumbling bougainvilleas, charming lanes with shops and ristorante and a beach.
Hotels are perched high above the town rendering spectacular views. A must visit, preferably stay.
For more detail see our Positano and Praiano section.


Amalfi Piazza - Barb's brother whiling away some time in a piazza in Amalfi.
Larger and busier than Positano this traditional village still has a lot to offer the tourist. Ravello towers above with some of the biggest views to be had on the coast. 
The road heading east from Amalfi brings you to picturesque Atrani. Great views on approach.
For more detail see our Amalfi and Ravello section.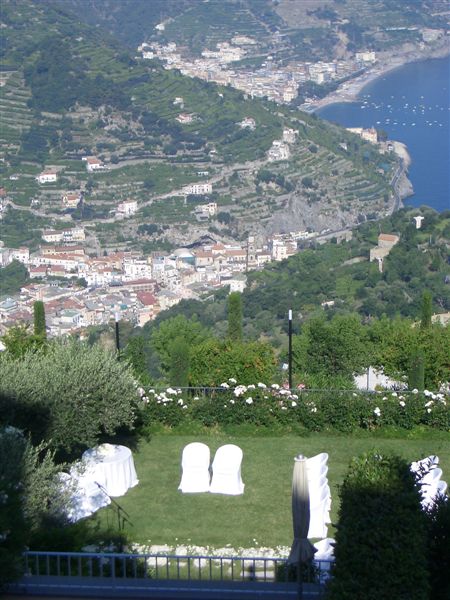 Ravello - towering above the Med this is lemon country.
The hills of Ravello are covered in lemon growing terraces. This is the land of "lemoncello". Mixed with champagne or just with some crushed ice this will kick start any night out.
Atop the hills are some very fine luxury residences and hotels. The views from Ravello heights are huge and spectacular. Romance is in the air. A fav for weddings. If you can afford it.
For more detail see our Amalfi and Ravello section.


Isle of Capri - no trip to the coast is complete unless you visit Capri.
You can day trip to Capri from Positano either by ferry or one of the many day tours. I would encourage you to consider a stay on the island. 
There are many wonderful hotels and the views from the top of Capri are stunning. 
Quaint lanes full of top shopping. Pretty pricey I would have to say but all the top brands are there. This is a place for the rich and famous, and you of course.
For more detail see our Isle of Capri section.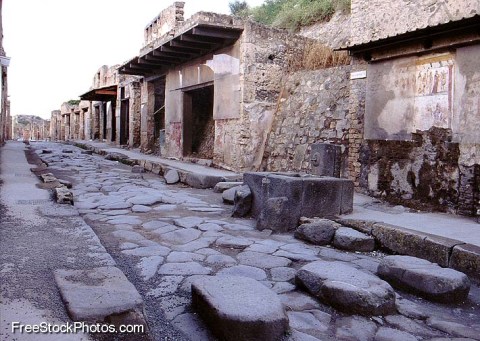 Pompeii Street - A street in Pompeii. Back in time.
Although not exactly in the Amalfi Coast region it is possible to day trip to historic Pompeii from this area. Tour bus is the answer here. 
Pompeii is quite astonishing in the way it is a preserved Roman moment. 
You can go back in time and walk through a Roman village as it was when Vesuvius erupted in 79AD. This is a fascinating day out and one I would recommend if you have the time.
You may also wish to consider Herculaneum. This is the not so popular alternative to Pompeii but is growing as a destination as archaeological works open up more of this village.


Summary - so what should you do on the Amalfi Coast?
Eat, drink, walk, shop and swim, with the odd tour thrown in, this is RnR at its best in Italy.
If you are touring other parts of Italy, do this part last. After traipsing around Rome or countless historic villages in Tuscany, this is the perfect way to end your Italian tour.
Planning a trip? Visit our Amalfi Coast Holidays section.