Italy Overview | Amalfi Coast Map | Amalfi Coast Region | Weather |
Photos of Amalfi | Amalfi Coast Webcams 
Italy Overview - the who, what, where and how!
On this page - a brief Italy overview. What are the people like? What is the food like?
Some tips on learning Italian, enough to get you by, so you can order a refreshing Gelato or Tiramisu. qualcosa da mangiare (something to eat). Una birra (a beer).Una bottilia de vino rosso ( a bottle of red wine). 
Tip - it really pays to make some effort to speak a little Italian. If you don't you may be ignored, so don't dismiss this one lightly!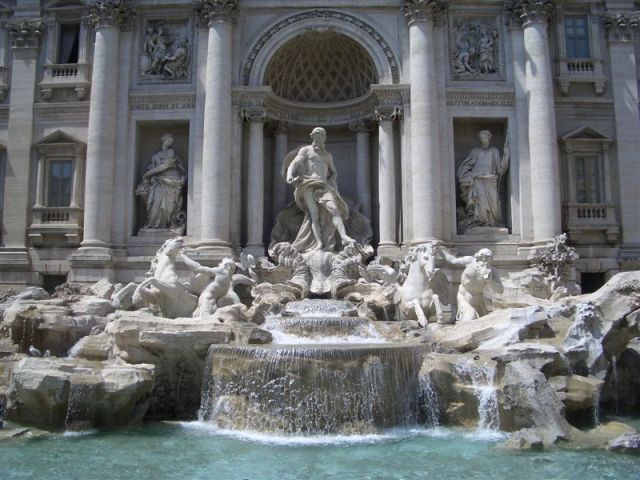 The stunning Trevi Fountain in Rome.
There is more to love about Italy than not. In the words of Giuseppe Verdi "You can have the universe, if I can have Italy."
I recalled this saying often as I toured Italy and found it at times to be very relevant, not only to the beauty of Italy, but to the character of the Italians own passion for their country.
So much of Italy has been retained as it was hundreds of years ago. You cannot help but feel the history. There's a virtual connection you gain to the past that is hard to equal anywhere else. We are talking Romans here.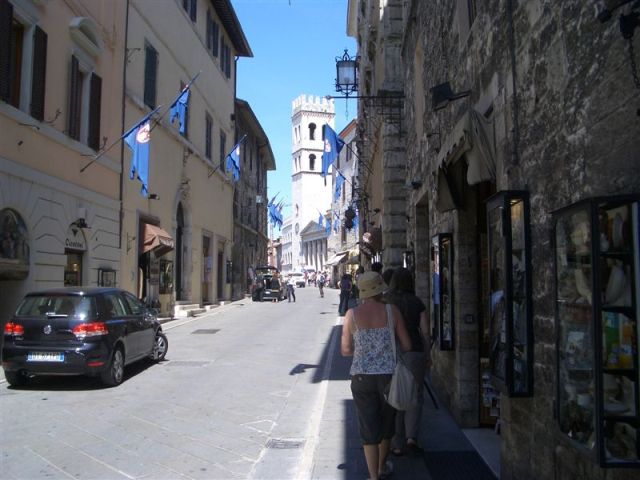 The wonderful mountain village of Assisi.
Italy has many options for the visiting tourist.
I am certain no tourist in his right mind would bypass Rome.
Tuscany is beautiful. Dotted with many mountain villages surrounded by gorgeous countryside.
The wintertime also offers great skiing, staying in alpine villages.
Then of course there is the Amalfi Coast region... our focus.
A quick word on village layouts.
Villages are usually made up of a collection of Piazza's.
These are the village squares. From each piazza, lanes head off in different directions ending at either another piazza or a porta (entrance) to the village.
Particularly in the case of the "Monte.." (on top of a hill or mountain) villages found all over Tuscany, e.g. Montepulciano, there will be several "Porta's" like, Porta Roma.
This is would be the entrance you would come in if you had travelled from Rome.
Statues above Positano.
The People!
Italians are a passionate lot as I am sure you are already aware. They are very friendly and helpful as long as you abide by some courtesies. Always initiate your requests with some Italian.
The more you can manage the better. If you can only say "Buongiorno" thats at least something, but I encourage you to do more. See my tips on Learning Italian on this page.
Shop owners prefer that you do not touch the merchandise, particularly if it is food.
They prefer to come and serve you.
They can appear to some of us to be a bit off hand, but do not be offended this is just their manner.
The Food!
Do not expect a lot of meat in Italy.
I personally found this severely lacking in most dishes.
Spaghetti Bolognaise here in NZ is loaded with beef mince.
Not my experience of the fare in Italy.
The tomatoes (pomodoro) are really nice and sweet, making the bruschetta il primo (starter) a must, if it is on the menu. And it is, more often than not.
Unless you go for a full sit down lunch, you can bet you will be having a panini or a version of it. This is definitely the main lunch item available on the run.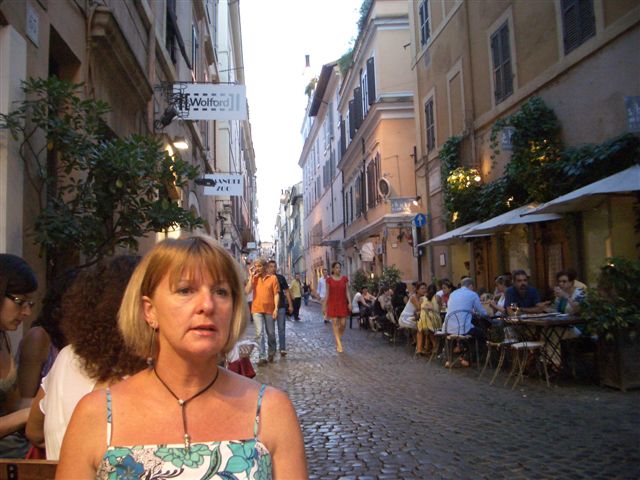 Street cafe's. Always a delight any time of day.
And here's a big tip for eating on the run; Cafe's have two sets of prices. One if you buy your food and eat it standing at the counter or portari via (take away), and another if you sit at a table.
This may seem crazy to some people but it makes sense. If you want to take up table space you should pay for the privelage. Especially given that many Italians will buy a coffee and then read the entire contents of a book before they move on.
I encourage you to pay for the privilage often in your travels. Particularly if you are in a location where you can people watch and soak up the atmosphere.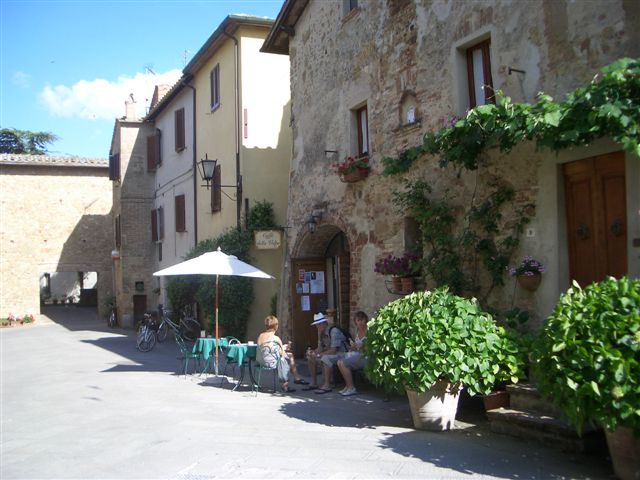 Afternoon Gelato...sweet as!
Just as it is with any Italy overview, no day is complete without an afternoon gelato. Gelato shops are everywhere and you have never had ice cream like this. If you are watching your calories, all the gelato shops have the small cone (gelato piccolo).
Mmmmm my mouth is watering as I write...
Learning Italian:
As I have mentioned. The more you can converse in Italian the more you will get out of your Italian holiday. This may sound like a major but I found a great way to learn Italian. Enough to get me by and build on. 
The aim is not to speak Italian fluently but to know enough words and phrases so you can interact when ordering, purchasing or getting directions. It is one thing to be able to ask and another to be able to understand the answer.
Don't panic, there is a solution. After trying lots of free stuff that I downloaded I tried a learning Italian CD that Barb's brother, Robbie, bought. This was a revelation and I can say the easiest experience I have had with another language. Done to music with lots of repetition and memory hooks to help you remember. I even found myself singing the songs while driving, very catchy and very easy.
I had a phrase book that I downloaded for my iPOD but never used it. The only things you need are a little pocket phrasebook and <br>my favourite learning aid before you go.
Check it out at Earworms learning
This will give a you a good overview of Italian.


Back to Top of Italy Overview